Product Lists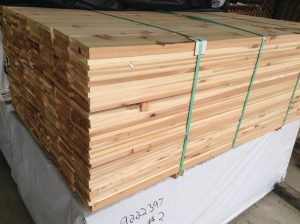 Good quality lumber performs well in different weather conditions and is resilient enough to stand the test of time. If you want lumber of excellent grade, you need to find a reliable vendor and we can help with that. At Wholesale Wood Products, we provide a wide range of products for every requirement. Our distribution network covers states like Maryland, Pennsylvania, West Virginia, and Washington, DC. If you're in these locations, we can help. Here's a look at the number of products available with us:
Siding
We provide strong and resilient western red cedar for siding applications. This is considered one of the most preferred woods for siding and gives a home a classic, elegant appearance. Redwood cedar is popular because it has a straight grain and is ideal for siding. It doesn't require much maintenance and provides a lot of flexibility, which most customers appreciate. We provide different shapes and designs of redwood cedar siding. You can choose between bevel siding, channel rustic, and T and G siding. Our products are available in different sizes and grades as well so you can have a truly versatile collection in your lumber yard. Read More About Siding >>
Boards and Decking
Decks and other such outdoor installations require strong, weather-resistant wood. Western redwood cedar is considered one of the best options available today. The material is flexible and easy to work with, which makes it a good choice for a variety of outdoor applications from decking to pergolas. We provide a wide range of products and combinations in this category. You can get graded smooth face, eased edge, re-sawn face, graded, graded re-sawn face, and several other options. There's something for every project in our collection. With our help, you can keep your inventory well stocked and ensure your customers have everything they need. Read More About Boards and Decking >>
Timbers
Timber is one of the most commonly used wooden building materials. It has a wide range of applications and is used in different aspects of construction. Good-quality timber is necessary to ensure the structure is sound and able to withstand outside forces. Our company provides strong redwood cedar timber in several different sizes. We have Grade Rough Sawn timbers, STK S4S timbers, and timbers C and Btr. All of these products are available in different sizes so your customers can easily find something that fits their projects. Read More About Timbers >>
Lattice
Wood lattice is used in the construction of fences, pergolas, arbors, and many other installations. These products are both practical and decorative, especially when they're made from good quality wood. We offer durable redwood cedar lattice, which is known for its resilience and appearance. The wood is naturally resistant to pests and other such concerns, which makes it ideal for outdoor applications.
You can add cedar lattice with gardening spacing and privacy spacing in different dimensions. We also provide cap and divider lattices in different sizes. If you're looking for treated lattice, our company offers treated garden spacing, privacy spacing, and fence toppers as well. Read More About Lattice >>
Plywood
Plywood is a versatile material that can be used in several different building projects. It is made from thin veneers or plies of wood that are glued together to form a strong board. This material is suitable for indoor applications, though some plywood scan withstand outdoor conditions. Customers can use plywood to build everything from shelves and cabinets or tables and chairs. We understand that our customers are always on a hunt for different kinds of plywoods and like to offer options. Our company specializes in redwood cedar, but we also provide fir plywood and okoume plywood in different sizes and combinations. Read More About Plywood >>
Louvers and Railing
Louvers and railings are used to create great fences and balcony or terrace boundaries. These products are durable, strong, and have a smooth appearance that fits modern design requirements well.  They're even more resilient if they're made from good quality wood.  Our redwood cedar louvers and railings can handle all kinds of outdoor conditions well, which makes them suitable for fences and similar applications. They come in different sizes and combinations so you can easily find something that appeals to your customers in our inventory. We provide pickets and hand railings made from this wood as well. Read More About Louvers and Railing >>
Fencing
Fences improve the privacy and security of a property. Many modern homeowners choose to install wooden fences because they offer a lot of privacy. They can combine regular fence wood with lattice or louvers to create a solid barrier between public and private property. Our strong cedar fencing can be the perfect addition to your inventory. We have no-hole planks of different sizes and grades, which can be suitable for different kinds of projects. Redwood cedar is softwood, which makes it easier to work with. Despite being softwood, it is strong enough to handle a wide range of environmental conditions. That's why many homeowners prefer redwood cedar to other alternatives available in the market today. Read More About Fencing >>
Log Cabin and Siding
Log cabins require unique wood and siding products. They have a distinctive appearance and architecture, which means regular timber blocks won't work on such projects. Our redwood cedar log cabin siding is a proven product. It is flexible and easy to use, but also strong enough to provide a protective barrier against outdoor forces. That's especially crucial in buildings like the log cabins. Our company can provide everything a customer needs to create a solid log cabin. We have siding, corners, cabin trim, rails, pickets, and blog posts of different varieties. Whether you prefer the grizzly hewn or smooth texture, we have it all. The products are available in different shapes and sizes so they can be used in all kinds of log cabin projects of any shape and size. Read More About Log Cabin and Siding >>
Special Order
Some projects require more customized materials. Standard measurements and designs just don't deliver the desired results. That's why we provide special order products to our customers. You can order bevel siding with clear vertical grain, beaded bevel, and STK cedar green log cabin siding of different sizes from our company. We have been in this industry for more than 30 years and pride ourselves in providing the best quality materials to our clients. If you're looking for a reliable supplier with a lot of industry experience, we can help. All our western redwood cedar products are responsibly sourced and checked carefully for quality. Read More About Special Order >>
If you want to know more about our western red cedar products, don't hesitate to get in touch with us at Wholesale Wood Products. You can call us at 540 788 4305 or contact us through this form.